Description
Easily organize all of your WooCommerce product variations in a table format to help your customers easily sort, filter, select, and buy their desired variation. 
Product Variation Table for WooCommerce (PVT) lets you showcase your product variations in a table format. You can provide your customers an organized view of your variation products in a grid and tabular format.
The plugin comes with a variety of table layouts and customization options.  It also provides a search feature for variation tables, which makes it easier to find a product. 
The shopping experience is made easier with add to cart buttons beside each table item. So it's time for you to take advantage of this plugin and enhance your user experience. 
What you can do with the Product Variation Table & the benefits
Let your customers select from a user-friendly view of your product variations.
Help customers select better through all the menu variations as per their desire.
Display all variations of products in the form of tables and grids on your WooCommerce store.
Customers need to pick their variation and select Add to Cart, where they can view all the variations chosen along with the product.
Provide a managed look to your page without any confusion to selecting their desired variations. Hence, it'll save their valuable time.
As your customer selects any product variation, the appropriate price will be shown along with all other variation's prices in the table form.
FEATURE HIGHLIGHTS OF PRODUCT VARIATION TABLE FOR WOOCOMMERCE – PVT
Revolutionize the way you display your variable products on product details pages. Represent the product variations as a table with lots of customization and control options.
Bulk Add to Cart Option
By default, your customers have no way to add multiple variations of a product to the cart. Well, those days are over! Empower your customers to select multiple variations of a WooCommerce variable product and add them to Cart with just a single click.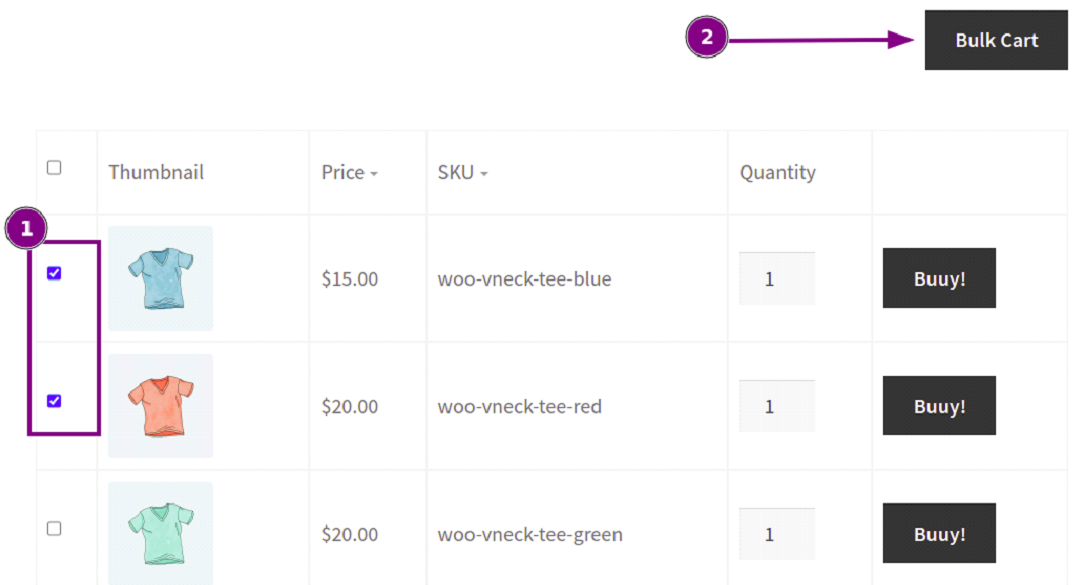 Convenient Control Options for Each Product
Product Variation Table for WooCommerce gives you perfect product level controls. So, you can control the product variation display options for each product. Three different options will help you include or exclude the table for a product. Moreover, the third option lets you display a WooCommerce variable product with both the default drop-down along with the table.

Include or exclude variation table for a category
Apart from the product level control options, there is also a global option to bulk control your products by enabling or disabling the product variation table for a category. Thus in simple steps, you can enable or disable the variation table for a batch of products.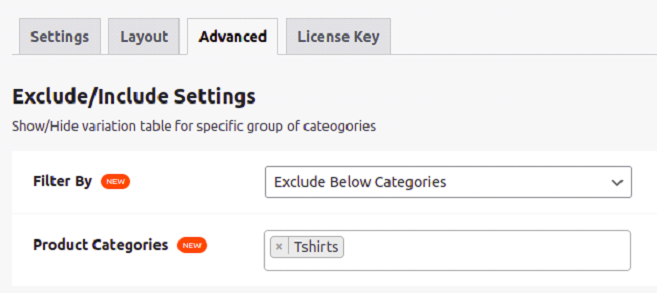 Resize variation thumbnails on the product table
Control the thumbnail size of your product variation from the thumbnail settings section. Product Variation Table for WooCommerce comes with a default thumbnail size of 100px. If you desire large thumbnails to ensure a better outlook, this option will come in handy.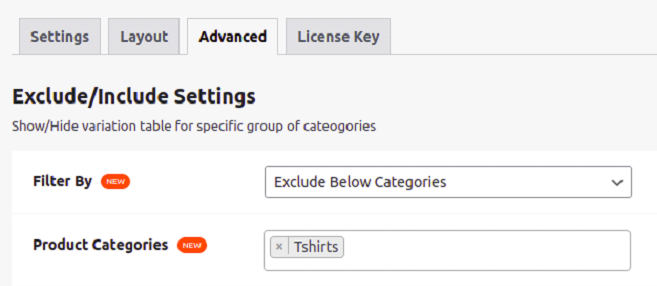 Enable thumbnail pop-up for variation table
Give your customers an option to view the product variation image thumbnail enlarged on a pop-up window. The large thumbnail on the pop-up window will give a complete and clear view to your customers. Thus, you can reduce customer confusion and amplify their purchase intentions.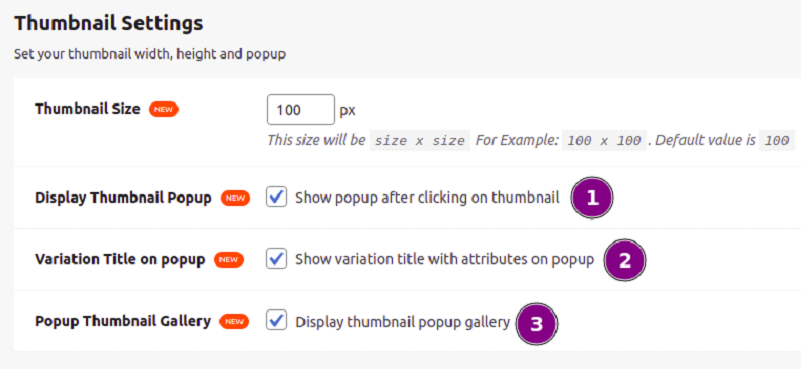 Variation Title on Pop-up
The ability to show the original thumbnail image on a pop-up window takes you one step ahead. Additionally, you can include the variation title with the pop-up thumbnails. As a result, the pop-ups will be more descriptive for your customers.
Enable Thumbnail Gallery on Pop-up
Here is another exciting feature for the thumbnail pop-up settings. With the Popup Thumbnail Gallery option, you can include the thumbnail gallery in the pop-up. So, customers will be able to view the complete gallery on the pop-up window.
Ability to Search the Table
To add more convenience for your customers, you can enable a search field for the product variation table. Customers can search with their desired terms to get a filtered output on the table.

Product variation table along with dropdown
You should love the new way of visual representation of our WooCommerce product variations. What if you could include both the product variation table and the default drop-downs of WooCommerce! Luckily, from the product level settings of the Product Variation Table for WooCommerce, you can enable both options for your desired products.

Add the table anywhere with the power of a Shortcode
You should rule the style of your store. Product Variation Table for WooCommerce comes with a shortcode allowing you to include the table anywhere on the product page. Use the shortcode [pvtfw_table_display] to add the variation table in your product description or anywhere else.

Personalize Product Variation Table for WooCommerce
We want to empower all WooCommerce store owners with outstanding new options so they can ensure better engagement with their customers. Apart from regular updates of the existing features, we will look for new features for you. If you have any feature suggestions, please share them with us.
Note: Apart from the premium features, you will also have access to the basic version of the Product Variation Table for WooCommerce. You can learn more about the basic features from this product page.